Health Article
Value-Based Care Quality Metric Overload?
February 17, 2023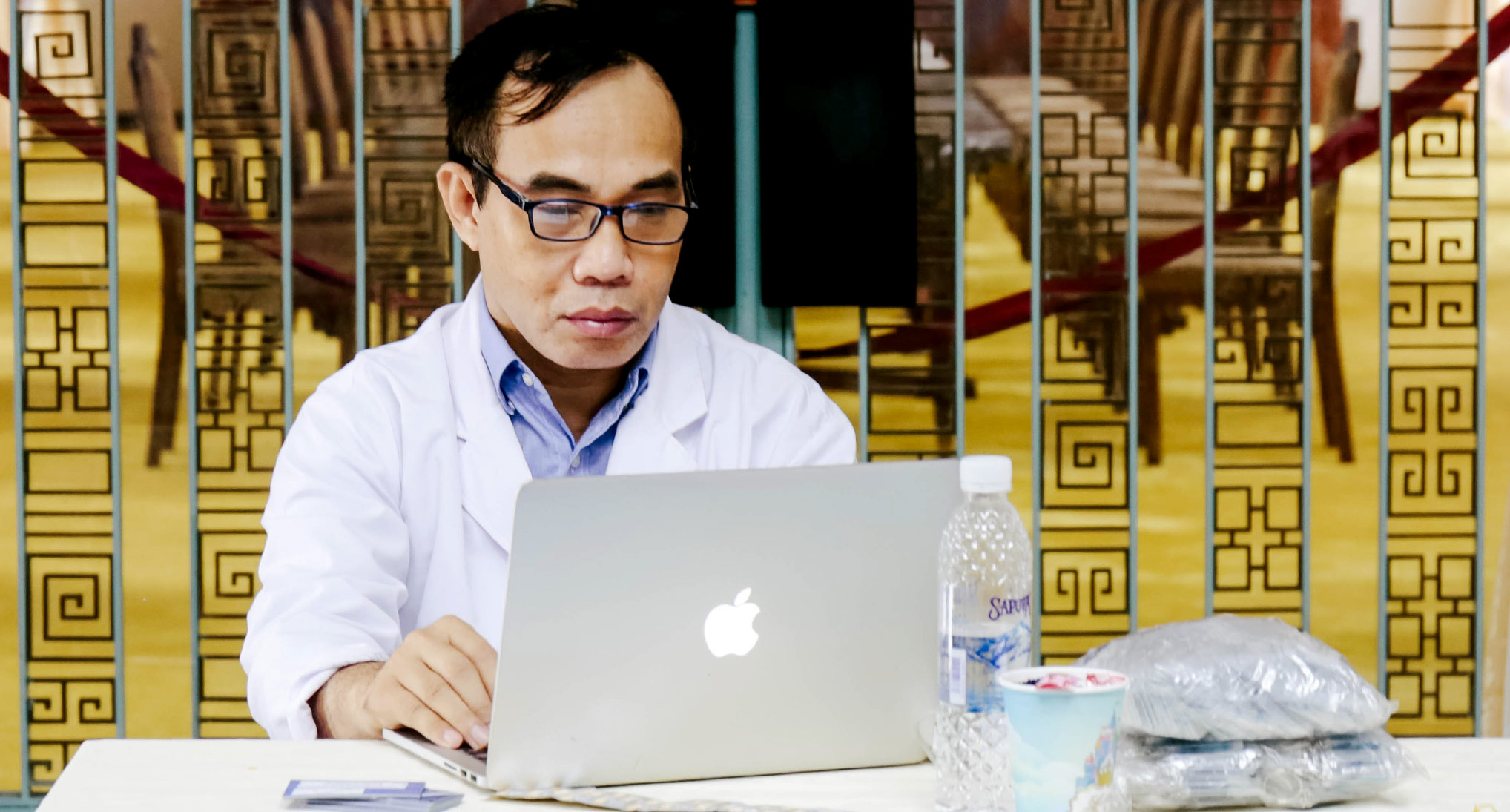 Build a cross-functional measurement system to manage payer programs for real ROI impact
Quality measurement programs have become critical for healthcare providers shifting further from fee-for-service (FFS) to value-based care (VBC) models. Change brings challenges to be sure—and VBC is no different—but ask a healthcare executive about their quality measurement program, and you may find the main challenge isn't about quality, but quantity. How can providers manage voluminous amounts of disparate quality data into meaningful improvement in value?
Between requirements for Medicare STAR, HEDIS (Healthcare Effectiveness Data and Information), and other payer-specific risk arrangements, the sea of VBC quality data and metrics for many healthcare providers would make your head spin. It can be a tall order for hospital systems to synthesize and, as I'll discuss, prioritize hundreds of different quality metrics across dozens of VBC contracts into a path to profitability, all while limiting disruptions to providers, patients and administrative staff.
The VBC "metrics overload" struggle is real, and can be boiled down to three key challenges:
Lack of Standardization: Many quality programs' metrics are intended to measure very similar things, but they use different benchmarks and scoring methodologies across different populations. At the metric level, this can quickly multiply into a plethora of data and confusion. Providers engaged in several VBC program contracts will regularly see:

Similar quality metrics are applied to different populations for different payers with different benchmarks and calculation methodologies
Multiple data sources are needed to collect the quality metrics.
Different time periods are used for measurement versus financial impact.
Different programs are used for commercial versus government programs (Medicare and Medicaid), as well as ACOs, with different standards and calculation methods.

Complexity of Measurement Systems: With varying point systems, percentage schedules and benchmark scaling using sophisticated actuarial adjustments, the complex measurement systems make it more difficult to find commonality and get program and contract metrics on an apples-to-apples basis in order to track and audit them effectively. Providers are often left submitting data to payers with no ability to calculate or audit final results, and are left with little choice but to accept whatever final reports the payer or CMS provides at year end. The measurement complexity also makes it hard for providers to identify areas for improvement both clinically and financially.
Clinical and Financial Disconnect: Many health systems excel at measuring clinical performance OR financial results separately (especially in the FFS realm). However, many healthcare organizations struggle to connect clinical performance and contracts' financial results to drive actual performance outcomes, which is necessary in order to effectively inform decision making and maximize value. This disconnect between financial and clinical tracking at the individual metric level makes it difficult to align priorities between the CMO and CFO.
Avoiding Expensive Mistakes
To address the hurdles above, many healthcare organizations leap into a "technology" mindset or "quality" mindset, which often involves investment in expensive technology solutions or comprehensive quality improvement initiatives. Most organizations are not equipped to do so using their current analytic and data aggregation structure, so they invest enormously in either new technology or process changes.
The problem is that most current technology and quality improvement programs do not specifically link financial contracts and clinical quality together, let alone align providers' performance goals with multiple payers' quality program requirements, and so can lead to frustration, unachieved objectives, and the belief that those investments were a waste of time and money. Luckily, there is a solution.
Data Validity and Alignment Drive Outcomes
It's essential to measure and track quality and value accurately, as well as to better connect clinical and financial areas. This starts by understanding an organization's existing value-based programs and payer quality management processes. The evaluation should include a careful review and assessment of each quality program provision and contract term, as well as payer report cards with clinical and financial results.
But it doesn't stop with data. It's vital that relevant multidisciplinary stakeholders are given an opportunity to participate in conversations about moving forward with intertwining clinical quality, fiscal health and improved patient outcomes. An interdisciplinary approach requires the involvement of contracting, clinical improvement and actuarial analysis to work together toward a common goal. Using this approach, health systems have had success in standardizing, simplifying, and improving payer quality programs.
Putting It All Together
To support such an effort, a tool is needed to help visualize and link the financial outcomes to clinical performance and provide actionable and prioritized direction for clinical operations. Transforming our morass of information from a database into a quality dashboard can give leaders the clarity and comparability they are looking for to break down silos and take meaningful action. Figure 1 shows an example of a quality dashboard for several metrics across two payer programs.
To help contracting and clinical teams prioritize the most important metrics across programs, an effective quality dashboard should include:
Quality metrics comparison across all payers' programs (both government and commercial payers) to enable easy analysis.
Financial values (upside and downside potential) using an actuarially sound methodology.
Clinical values, including both the program's benchmark and actual result, for each metric.
Other valuable clinical information, such as service line and care-setting categories, to give clinical leaders more actionable data for further performance improvement efforts.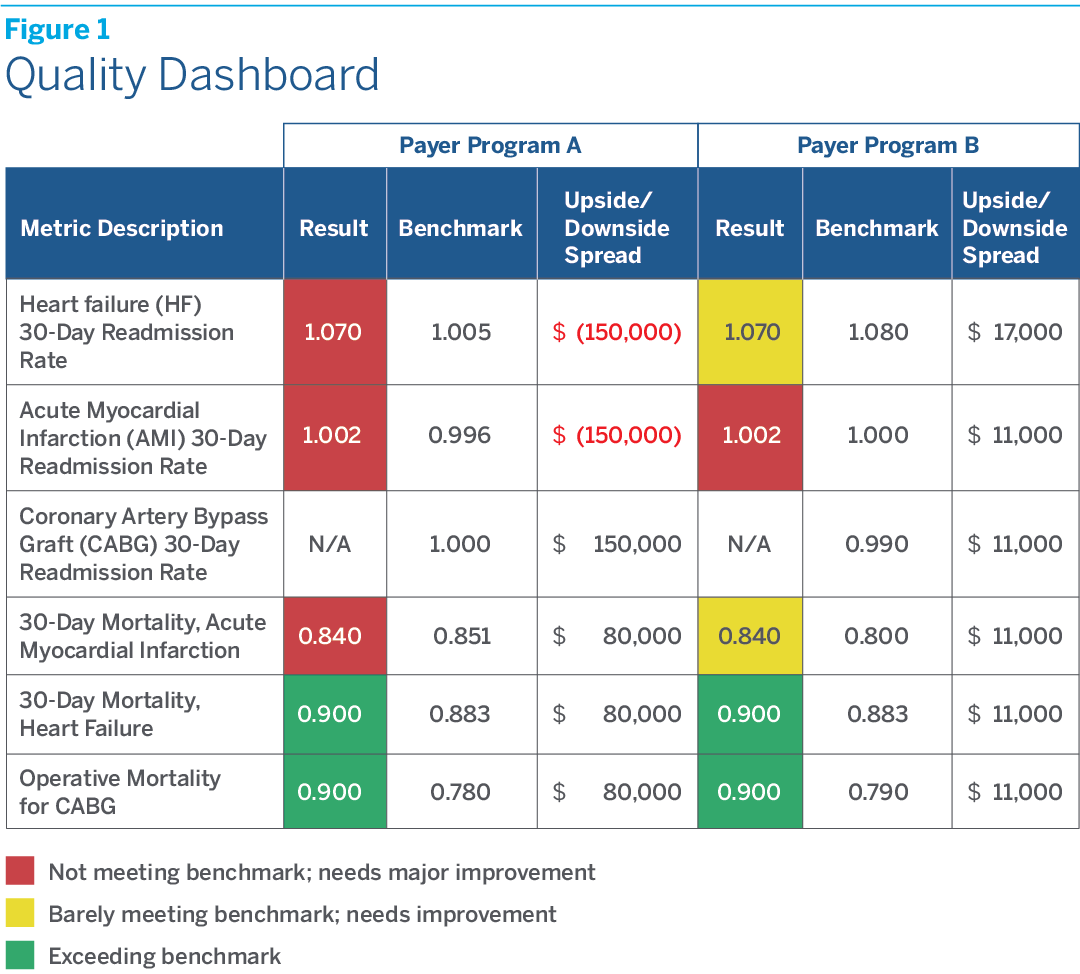 Using the Dashboard for Maximum Impact
The quality management process and quality dashboard can supercharge your VBC program success in a variety of ways, and ultimately inform more productive partnerships between payers and providers. The dashboard has been adopted and used by several health systems with great success. Here are just a few uses reported back from those health systems to consider.
Consolidate payer quality metrics and prioritize them into 60 "high-value metrics" representing 80% of the financial value of the programs and with meaningful clinical impacts to the health system. You can then track and monitor this data easily through the quality database/dashboard.
Help leadership set improvement goals and develop strategies for ROI results at the beginning of the year.
Improve quality performance for CMS programs by looking closely at your organization's performance across the board. CMS quality VBC programs are penalty programs with significant dollar impacts. A quality dashboard enables users to compare CMS programs with other commercial programs to identify pain points that can be improved across the organization, instead of focusing on just one silo's metrics results.
Negotiate with commercial payers to either reduce quality metrics or replace with meaningful metrics that positively impact outcomes. A quality measurement dashboard enables users to prioritize metrics financially and clinically to identify "core high value metrics." Providers can use these to negotiate or start conversations with partner payers to either reduce quality metrics numbers or choose more standardized and meaningful metrics that really matter.
Request actionable data and reports from payers to support clinical improvement. Don't settle for standard reporting that may not provide relevant or insightful information. Seek data points based on what you're already seeing in your dashboard or new metrics that can inform your decision-making for continued success.
Encourage an interdisciplinary decision-making process between the contracting department and clinical team to prioritize and track metrics based on both financial impact and clinical importance.
A Common Vision in High-Value Care
This VBC quality management process and quality database/dashboard can be adopted broadly by any healthcare organization to solve the challenges of VBC payer arrangements that many leadership teams face today. It will help both contracting departments and frontline clinicians improve both financial and clinical performance, and to achieve a high-value care vision—value in both quality and cost.
Ultimately, the big winners will be the patients who reap the benefits of VBC with improved health outcomes and more cost-effective care.